News
For up-to-date news, find me on twitter as @ScavengerEthic, and on ello as @petealexharris but be ready for a lot of politics and other nonsense in between the writing-related stuff.
My latest SF novel, disOrder is finally out, and in my ebook bundle on Gumroad making it an even better deal than before.
You can also buy it separately on Smashwords, Kobo, Apple books and other major ebook retailers. The paperback also available from Amazon now.
My new short story collection Silk and Sharp Edges is out now on Kindle, Smashwords, and of course as part of my bargain All The Books ebook bundle on Gumroad. I've selected 15 stories, some that were previously only available in anthologies, and a few that are brand new.
The Folly
An architect takes on a project of doubtful utility for a wealthy patron
Quicksilver Spirit
A young chemistry graduate sees a ghost in the house of a retired professor. Or does he? Whatever it is, maybe it's better to leave it alone.
Ello: Scene Writing Questions
I'm busy editing again, and this means completely overhauling some scenes, either because the POV has to change, or the scene has to do something different.
My Books and Stories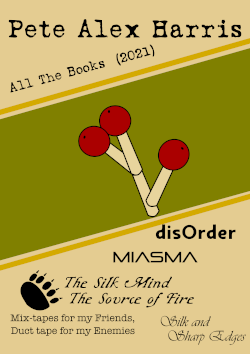 All My Books Bundle
All my self-published ebooks so far (and updates for any future ones) for a bargain price.
More Here
All my books and stories worth mentioning …
About Me
Mostly SFF and horror writer living in Scotland, working as a software engineer to make a living. Bi, married, dog person with a cat.
Always wanted to write science fiction, never really got round to it until a few years ago. I have three self-published SFF novels and several short stories in various genres, some of which I even got paid for.
What I want as a writer is to have interesting thoughts and play around with them until I can express them in a way that satisfies me. If other people like how I do that, then that's a blessing. Always 100% here to encourage others to find what they want to be and be it as hard as possible.